Purpose
This phase is about making your innovations stick and building lasting relationships. You have developed an experience that works for your target group. How will the organisation deliver this new experience ongoing? How will you continue to develop the relationship with this group? Realistically, you probably still have much to learn about this new community and they about you. There is probably considerable potential to develop a better user journey. How will you use the ACED process? It might help to create an "audience plan" as a framework.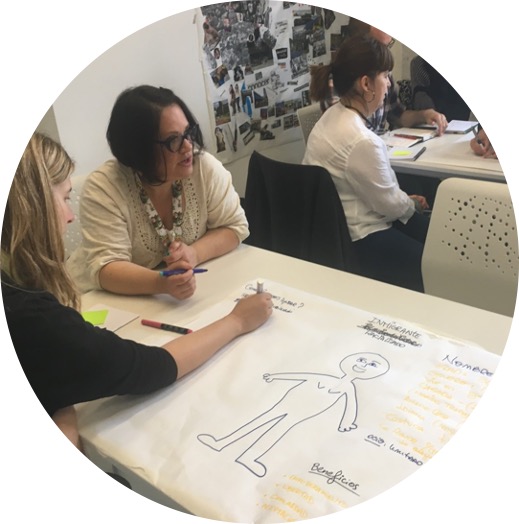 Actions
There are lots of ways you can plan the future, take a look at some of the tools and resources we have used. Or follow these steps:
In your Task Force, carry out a review. You might want to include: the design process, your proto-type/s, what you learned about the target group, how the task force worked. What worked and whty? What ideas and ways of working should the organisation take forward? As a Task Force, use one of the decision-making tools - like Love It Leave It - to agree priorities.
Now ask: how can the organisation take forward these ideas. It might be helpful to develop an audience plan and recommendations covering these areas:
How can the organisation adopt the new experience you have developed: who needs to be involved, what resources are required, how will you evaluate and adapt it?
Develop you persona - what have you learned about your target group, their interests and concerns? Create a detailed biography and user journey to share.
What should your relationship with the target group be like in one year, in five. What will success look like? Describe the short- and long-term aims and goals for the target group?
Nominate a champion for the target group who could lead delivery of the audience plan. They will champion your target group's interests, build relationships, carry out research, co-design new experiences. It could be one person, a new group or the same Task Force.
What activities will be included in the plan and what and resources will you need?
Once you have completed a draft plan, you can recommend it to others in the organisation. Who needs to sign it off? Who needs to be involved? Who needs to support it? How can you involve the whole team?
By the end...
You will have agreed a committment to a long-term strategy for your target group
Organisational Learning
During this step, organisationl learning is focused on what your organisation needs to do in future to connect this particular target group. Help your colleagues to get to know the persona who represents it. Give a presentation to bring them alive, circulate an information or story-sheet, mention them and their interests in planning meetings. Give them a permanent seat at your table.