Purpose
This is the first step in the "design phase" of ACED in which you undertake an experiment with and for a key target audience. It is all about understanding the perspective of your target group - audience/s or community - which may be very different to others'. Where do they live, what do they do? Do you really have something to offer? Are they real and reachable? Why do they need you?​ It's also about understanding them as whole people, in a deep and empathetic way. How do they feel? What makes them tick? What would make their lives easier, sweeter, more fulfilled?
Good design – and good audience development – are both based on an authentic and empathetic understanding of an people's needs and interests. This is particularly important if you want to attract a new or different audience or community. The aim here is to use all the information available to bring your target group alive, as credible people who everyone in your organisation can get to know and love. Importantly, you will need to talk directly to people about what they think of your organisation, what you may have to offer that matters to them.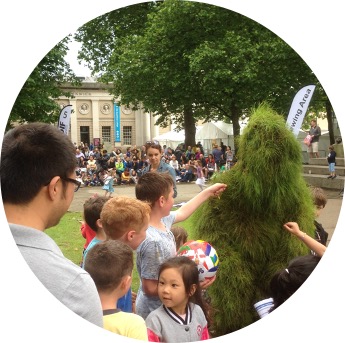 Actions
Review and summarise existing audience data which might be useful.​
Work together to create a flesh-and-blood "persona/s" who represents your target group/s: use the persona canvas tool​.
Have real conversations with real people about your organisation and their interests – and how they match up.
Plot a user journey to understand your target group's experience and see how you might improve it: use the user-journey mapping tool.​
Validate – or test your assumptions - about your persona through further research (consolidate existing data, add qualitative insight): use the Get to Know tool.
By the end...
By this end of this stage, you should have:
Have identified which target group/s you will be designing for - if you haven't done so already.
Created a persona(s) for your target group(s).
Tested the validity of the persona – with real people, in the field.
Shared with your colleagues a fully developed persona as an introduction to the target group.
Identified the your target group's "problem" – what needs/ barriers of your target.
Organisational learning
This is a "divergent thinking" stage, exploring a wide range of audience "problems". It is the Task Force's first opportunity to learn how to manage the process of generating many ideas and then decideing together what is most important. This stage can help your organisation to:
Develop research and consultation skills.
Learn how to synthesise data sources and communicate finding in a compelling and practical way​.
Improve collaborative working
Facilitating "divergent and convergent" thinking.
Audience & Community Insights
This is an opportunity to learn more about the target audience:
Whether they already have a relationship with you organisation– have they ever visited, online on in person, for what, how often​.
What impression they have of your organisation – your offer, brand, values, services, quality etc​.
What they care about and what they do with their spare time and what needs/ interests your organisation could serve.​
What's their "user-journey" – from finding out what's on, through planning a visit, taking part and after.​
What barriers do you create that stop them participating.