Purpose
New experiences could open the doors to lasting new relationships, especially where you have co-created those experiences. This stage is your chance as a group to apply your imagination and creativity to coming up with ideas.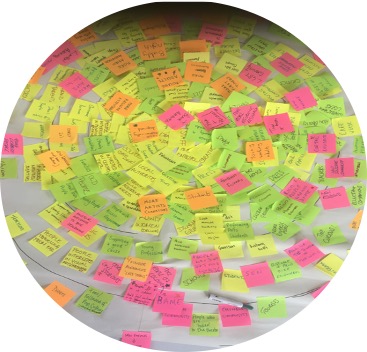 Actions
Working together, aim to generate the widest possible range of ideas from which you can select the best to take forward. The more people involved, the more ideas you will generate – and this is the key to success. This is a good stage in which to involve your new audiences/ community and to engage the creativity and goodwill you have developed. It is the ideal moment for co-creation and/ or co-curation.​
​Plan and set up ideation sessions. You might choose to carry out one of several "ideation sessions", perhaps with different stakeholders or about different aspects of the user-journey. ​
There are lots of tools and techniques to choose from. Working in a group setting really helps open up our creativity. It is worth putting in the time and effort to get environment right – comfortable, non-hierarchical, playful. You are looking for interesting and genuinely new approaches with which you can experiment. Be sure to capture the full range of ideas suggested. ​
Going back to the brief, now select the best ideas to test and experiment with. Again there are lots of tools you can use but what is important is to select ideas which get to the heart of the issues of your target group, are deliverable and from which you can learn.​
By the end…
You will have:
Selected a shortlist of ideas to develop into a "prototype" with which you can experiment to learn more about what will ​
Further developed relationships with your target community.
Organisational learning
You will learn:
How to generate new ideas for new experience involving a wide range of stakeholders​
Some essentials of co-creative practice​
How to engage staff teams in creative thinking in an equitable way
Audience & Community Insights
You will​ generate a longlist of potential ideas which could be enacted or tested by the Champion group in future.